Salute A Real… Special Recognition Award


NJPW World-I tried not to subscribe because I don't use my WWE Network that much but I got it for G1 and have not canceled yet. Been delivering the goods.
Top 5 Favorite Tag Teams/Groups/Stables


5. Tyson Kidd & Cesaro-Sadly injury cut short this teams year of competition but for a good minute they were the hottest team in WWE. Delivering match after match.


4. The Usos-Just edging out the previous team, Usos have been on point in every match. Interestingly, had them at 4 in my 2014 Favorites.


3. Young Bucks-Down a spot from the previous list. The Bucks are still wildly entertaining in PWG and NJPW.


2. Los Ingobernables de Japon-Naito, EVIL, and BUSHI run amok in NJPW. These assholes are a joy to watch.


1. The New Day-Seriously, they proved the haters wrong and they are the best thing in every WWE show I catch.
Top 5 Favorite Female Wrestlers


5. Kimber Lee-Only caught a tiny bit of Kimber this year but she's still fun to watch. CHIKARA booked her smart from what I saw.


4. Becky Lynch-Becky is an incredibly gifted wrestler and part of two of my fave women's matches of 2015. One of which is in my top 10.


3. Meiko Satomura-I didn't watch much Joshi because-well, time and the effort in having to find things. But caught several Meiko matches and was reminded why she is one of the best.


2. Bayley-Bayley is awesome.


1. Sasha Banks-Sasha Banks is WWE's best diva.
Top 10 Favorite Male Wrestlers


10. Tomohiro Ishii-Last years #1 dropped to #10. Ishii had quite a year though with a number of great matches in the G1 which kept him up on the list.


9. Pentagon Jr. and 8. Zack Sabre Jr.-Pentagon was a total beast. One of the shining spots of Lucha Underground and just so damn cool. As for Sabre, I didn't watch a lot of him in 2015 but what I did see was great. Best technical wrestler in the world?


7. Kevin Owens-I haven't been exactly happy with the WWE product but Owens has been my fave singles wrestler in WWE this year.


6. Fenix-God damn! great feud with Mil Muertes along with other excellent LU matches. Plus great stuff in PWG and CHIKARA.


5. Prince Puma/Ricochet-Lucha Underground, PWG, and NJPW were graced by this man.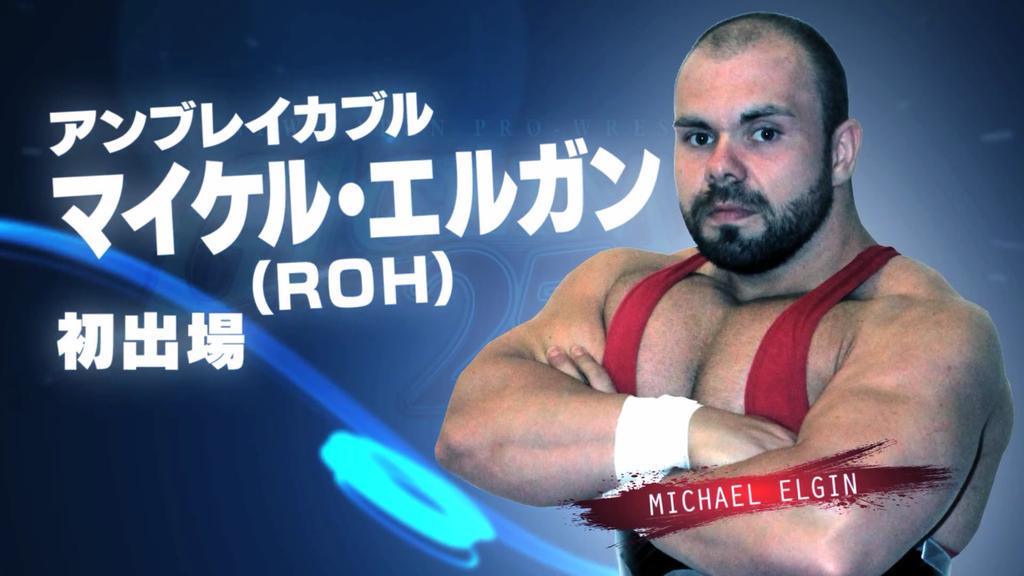 4. Michael Elgin-Funny to think people were mad he got picked for G1 Climax. Now he's more over than half the main roster. Elgin took the ball and ran with it.


3. Kazuchika Okada-Okada brought the goods since Wrestle Kingdom 9 until the end of the year. While none of his matches made it into my top 10, the string of strong matches were enough to warreant this spot. Okada is the future of NJPW.


2. TIE: Tetsuya Naito and AJ Styles-Naito was one half of my favorite feuds in 2014 but I did not put him in my top 10 because-while good I was not exactly a fan. Now Naito is on fire and I'm a mark. Los Ingobernables changed this man for the better. AJ Styles was consistently excellent throughout the year. G1 showing being a great example.


1. Hiroshi Tanahashi-Tanahashi had a great 2015. Brilliant match with Okada at Wrestle Kingdom 9, won the G1 while delivering a great string of matches. Plus him and Michael Elgin made a great tag team. Tanahashi my fave of last year.
10 Favorite Matches


10. Hiroshi Tanahashi vs. Tetsuya Naito @ NJPW G1 Climax 25 Day 5 7.26.15-Naito had just premiered his new attitude but this was the match that cemented him as the must see character of the tournament. Tanahashi went on to win the thing but Naito won this match and made everyone stand up and notice.


9. NXT Womens Title: Sasha Banks vs. Bayley @ NXT Takeover: Brooklyn 8.22.15-Many peoples favorite womens match from NXT. It was damn good. Bayley and Banks work so well together.


8. Michael Elgin vs. Tomoaki Honma @ NJPW G1 Climax 25 Day 8 8.1.15-I think this was just about the match where Elgin really got over. Helped he was against Honma, the ultimate underdog. This was a dynamite match.


7. TLC Match for the Tag Team Championships: The New Day vs. The Usos vs. The Lucha Dragons @ WWE TLC 12.13.15-This was brilliant car crash. Over delivered and over shadowed all the other matches of that show.


6. A Block Finals: AJ Styles vs. Hiroshi Tanahashi @ NJPW G1 Climax 25 Day 17 8.14.15-There is a part of the match, close to the end, where Tanahashi gives Styles a pair of middle fingers. One of many amazing visual moments in this match.


5. John Cena vs. Kevin Owens @ WWE Elimination Chamber 5.31.15-Way to make a main roster debut. Owens is a beast and Cena is better than a lot of people give him credit for.


4. NXT Womens Title: Sasha Banks vs. Becky Lynch @ NXT Takeover: Unstoppable 5.20.15-This match was so smooth, so great. I honestly loved it more than both Banks/Bayley matches.


3. Michael Elgin vs. Tomohiro Ishii @ NJPW G1 Climax 25 Day 18 8.15.15-Both men were mathematically eliminated before the faced off in the G1 Tournament. That did not stop either man from giving it their all. brutal display that has had fans around the world asking for a second face off.


2. IWGP Intercontinental Title Match: Shinsuke Nakamura vs. Kota Ibushi @ NJPW Wrestle Kingdom 9 1.4.15-This was beautiful. Also many critics fave 2015 match, earning that Wrestling Observer 5 Stars. My favorite match out of Wrestle Kingdom 9 and of NJPW all year. And oddly, both guys did not make my Top 10 cut. Ibushi was close and while Nakamura was good this year I was not as blown away with most of what I saw. That does not change that this match lived up and beyond the hype.


1. Grave Consequences: Mil Muertes vs. Fenix @ Lucha Underground Episode 19 3.18.15-My #1 match, almost had at #2 but ultimately the drama pushed this up top. The best Lucha Underground match thus far. The best casket match ever. A brilliant display from both men. Seek this one out. Its art.