One of New Japan Pro-Wrestlings signature tournaments, Best of the Super Juniors, is behind us. The 23rd tournament, 27th including the precursor tournament Top of the Super Juniors. The tournament has featured well known wrestlers and legends known to American audiences from the likes of Owen Hart, Fit Finley, and X-Pac Sean Waltman to tournament winners like Eddie Guerrero (1996), Jushin Thunder Liger (1992, 1994, 2001), Finn Balor (2010, 2013), and Ricochet aka Prince Puma (2014). This is a small sampling of the athletes who have competed.
Like most years the tournament is done round robin style in two blocks, and in this case the top point scorers go to the finals. Eight wrestlers per block with 2 points for win, 1 point for draw, 0 for lost. If a tie occurs at the end of the blocks rounds the tie breaker goes to the winner of the wrestlers previous match. This year there was 8 wrestlers per block. Here's who was in.
Block A consisted of IWGP Jr. Heavyweight Champion and 2015 winner KUSHIDA, IWGP Jr. Heavyweight Tag Champion Matt Sydal, 2012 BOSJ winner Ryusuke Taguchi, 2015 finalist Kyle O'Reilly, Rocky Romero, BUSHI, Gedo, and Young Lion David Finlay replacing Matt Jackson of the Young Bucks.
Block B consisted of IWGP Jr. Heavyweight Tag Champion and 2014 winner Ricochet, Ring of Honor TV Champion Bobby Fish, three time BOSJ winner Jushin Thunder Liger, two time back to back BOSJ winner Tiger Mask IV, Beretta, Will Ospreay, Volador Jr., and Chase Owens replacing Nick Jackson of the Young Bucks.
Going into this tournament a few things occurred. The champion was a part of the tournament for the first time in three years. The Bullet Club members the Young Bucks got injured (oddly in the same match) and were replaced with Chase Owens (another Bullet Club member) and Young Lion David Finlay, son of Fit Finlay. A Young Lion is a wrestler going through the NJPW dojo system and while Finlay debuted at the last BOSJ he lost all his matches there and was expected to lose all his matches here as Young Lions in his position only win matches against other young lions and take falls in tag matches with main roster wrestlers. The favorites were Kyle O'Reilly as he made the finals the previous year, Will Ospreay as he has become the hottest young star on the scene, and with native Japanese audience BUSHI who is part of NJPW's hottest group Los Ingobernables de Japon and seems to be the second most popular member after Heavyweight champion Tetsuya Naito.
BLOCK A
Block A featured more of my favorite matches than block B. In fact, I think it was more interestingly booked. The first night capping off with the exceptional KUSHIDA vs O'Reilly, a rematch from the previous finals though both men have had a couple singles matches between that and this one. KUSHIDA is one of the absolute best wrestlers around and after some odd booking in his previous title reigns has come off as the true ACE of the division. The same can be said about O'Reilly, an incredibly popular American indy star and one of the faces of New Japans Junior division as one half of the tag team Redragon with Bobby Fish. These two set the standard going forward. The second night of Block A action (night 3) also had KUSHIDA in an incredible give or take match with Rocky Romero, long time New Japan worker who is very much loved by the audience. The majority of KUSHIDA'S matches are worth the view. Amazingly KUSHIDA started 0-2 before going on a winning streak that was cut off by BUSHI who played spoiler in the last night of Block action ruining his chances at going to the finals for a third year and possibly winning for a second.
O'Reilly's second best match of a strong tournament, all his matches were good, came on the last night of block action against Rocky Romero. There's Romero again… This match would have put O'Reilly up to 10 points and maybe have a shot going to the finals but Romero put up a great fight. All of O'Reillys matches were good to amazing. Romero, while his tournament had a couple of less noteworthy matches, came up with three performances worth talking about. The two I mentioned and also a comedy master class with CHAOS stablemate Gedo (actual NJPW booker) that involved Romeros' RPG Vice tag partner Beretta. A funny match to be seen on Night 11.
A few big surprises happened. Matt Sydal, who some odds makers put at the middle of the pack, tied for the top spot. Sydal worked a great tournament with excellent matches against Taguchi (night 1), O'Reilly (night 7), KUSHIDA (night 11) to name a few. Sydal has, if rumors are to be believed, signed a contract with NJPW and this run shows a lot of faith in him. David Finlay did not lose all his matches, having scored a surprise victory on Gedo which was a smart booking move. BUSHI had an odd tournament, going from a 0-3 losing streak to clearing all his next 4 matches. While I don't think anyone really stood out, BUSHI was not by any means a lackluster performer. He oozes charisma and brings the dreaded MIST attack which blinded opponents to his final strikes. BUSHI's main purpose was to face KUSHIDA on the final night of Block action and beat him. To get a victory over the champ who beat him when he challenged a few months back. BUSHI tied in the middle of the block but trust me, lots of people came to see him and buy his merchandise. He's still one of the hottest stars in Japan. He also had best gear of block A.
The big story might be Ryusuke Taguchi, the former BOSJ winner and multiple time champion (and Finn Balors old NJPW tag partner) was not given much odds by American viewers. He's more of a comedy wrestler now with his mockery of fellow competitors and ass based offense. I myself have gone back and forth on him. Ryusuke pulled out all the stops and delivered with four excellent matches (Sydal on night 1, Finlay on night 3, KUSHIDA night 7, O'Reilly night 9) and pulled a great entrance on night 11 when facing BUSHI. Ryusuke dialed the comedy back and showed he can still go and props to him, he won block A! Tying with Sydal at 10 points. Some American fans are upset with this but remember, Taguchi is a star in NJPW. He sales merchandise, fans cheer his antics, and they generally love the guy. I came out of the tournament with a lot of appreciation for Taguchi.
BLOCK B
While not my favorite match of the tournament, definitely the match EVERYONE IS TALKING ABOUT! is Ricochet vs. Will Ospreay from night 6. Arguably the two best high fliers in the world. Ricochet is the Future of Flight and Ospreay is the Aerial Assassin. Criticized by some as too choreographed and not "real enough" this crazy spot fest is ridiculous and insane and you need to see it. Ricochet and Ospreay tied in the end with this match being the tie breaker as Ospreay defeated Ricochet.
Both were the highlights of this block. Ricochet putting on great performances with Bobby Fish on night 4 being my second fave of his run. His match with Volador Jr. on night 12 is also one to note. Ricochet is just so good and such a pleasure to watch. He went through roughshod mostly only dropping three matches and the last one-against Owens, had much shenanigans on the Bullet Club means. Essentially screwing him out of the finals. Ospreay started at 0-2, scored against Ricochet, loss his next match, then started winning. I think his matches were just a slight leg up on Ricochet as his matches with Chase Owens (night 2), Beretta (night 4) and Volador Jr. (night 13) were all very good. These two were the stars.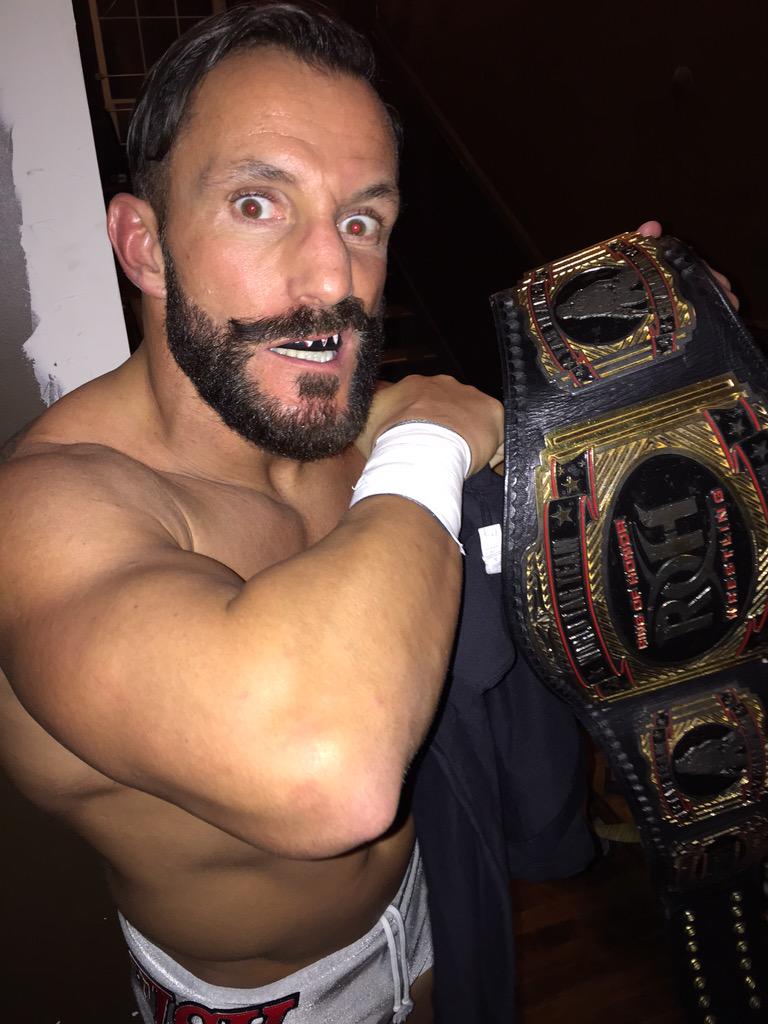 Looking at the rest of the block, Bobby Fish's booking was weird but they kept one half of Redragon and current ROH TV champ strong for the most part as he was part of the 4 way tie on the top of the block. Outside his match with Ricochet I was more impressed with his match against Chase Owens than others were. Still, I would say he has the most consistent string of quality matches. They were all at least *** if you like those kinds of ratings. Yeah, while Ricochet and Ospreay are great their speed and timing sometimes clashed with a few guys. Beretta, despite the last two matches being iffy, had great showings against Ospreay and Volador Jr. (night 2). He started strong, kind of fizzled, scored on the final night for the 4 way tie on the bottom half of the block. Both guys though, are excellent wrestlers. Tiger Mask and Liger were fine in their role, Liger the oldest guy in the tournament in his 50s with Mask in his mid 40s. Some of their matches were good, some underwhelming, but essentially played spoilers to keep the matches mostly unpredictable though it was almost a given Ospreay would win.
Laslty, Volador Jr, the representative from Mexico's CMLL, no doubt surprised some by being part of that top of the block 4 way tie. One of VOW's writers predicting only one match victory and here he was on the final night of block action taking on Ospreay for the rights to the finals. His match with Ospreay, despite one small botch (he had a few botches this tournament but I still enjoyed his work) and half sec slower than Ospreays, is worth checking out. The crazy Spanish Fly spot is brilliant. Volador Jrs. best match IMO was against Beretta but most his matches were good. He also had the best gear of Block B.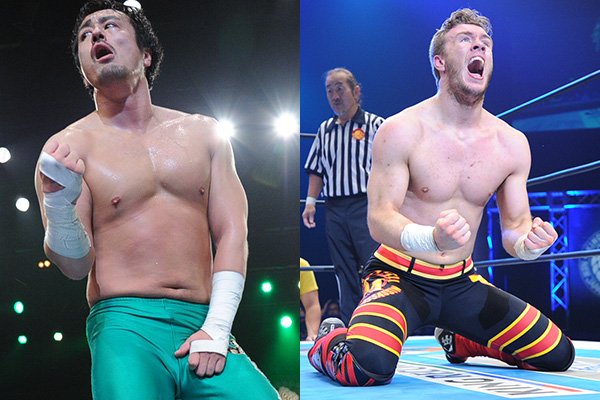 FINALS
Ryusuke Taguchi vs Will Ospreay top lined Night 14, aka Finals night. It was an incredible match. The fans were mostly behind Taguchi but also had love for the newest company gaijin, ospreay. Ooohs, aaaahs, and cheers for his incredible feats. Ospreay is so different from the guy I first saw almost a year ago in PWG. I thought he was an exemplary high flier but with little else. His striking game and technical acumen were not on display in the little I had seen and his charisma was… well… okay I guess. However his work in NJPW has shown he is a talented striker, he has a ground game, and a lot of charisma.
Not to be outdone, Taguchi has traded off his silly persona but brought the aggressive attitude when needed. He has put on display that he is a talented mat wrestler having won many matches with his ankle lock. Plus he is no slouch to going to the air. These wrestlers are similar in that they are all around gifted but one is a comedy wrestler who is just out of his prime and the other is a more dynamic youngster still a few years off from his. These two meshed well.
I'm not going to go into details about moves because I don't take notes. I will say that I saw some pretty cool counters, I like the kick combo thing Ospreay does with the round house and hook kick in sequence, the springboard flying ass attack is actually quite impressive from Taguchi. The standing Spanish Fly is always a pop moment. Taguchi wrestled a more ground game than Will, while Will did holds and submissions Taguchi was much more focused as he has a submission finisher. he worked great as a base for the incredible work by Ospreay. Ospreay won with the OsCutter and challenged IWGP Jr. Champion KUSHIDA for the title as was expected.
OVERALL SCORE
B+: The tournament was, overall, excellent. There were some forgettable matches and block B was not as strong as block A in my opinion. That said, there was very few dull matches and the tournament featured at least 5 MOTYC.
KUSHIDA vs Kyle O'Reilly Night 1
Ryusuke Taguchi vs. Will Ospreay Finals
Ricochet vs. Will Ospreay Night 6
KUSHIDA vs. Rocky Romero Night 3
Rocky Romero vs. Kyle O'Reilly Night 13
THE REST OF THE TOUR
The stuff going on outside the tournament, when NJPW aired full shows, there was some things that were noteworthy. NJPW megastar Hiroshi Tanahashi announced his shoulder injury was too serious for him to compete at the upcoming Dominion show. The first NJPW ladder match against Intercontinental Champion Kenny Omega. Tanahashi's tag partner Michael Elgin, who already loss to Omega a month or so ago, has stepped up to take on the Bullet Clubs top star. They pushed him hard in the last few shows of the tour.
Katsuyori Shibata (aka the Shibata on Cody Rhodes list) and legend Yuji Nagata (48 and still kicking young mens asses) continued their heat over the NEVER Openweight belt. The rematch is going to be hot.
CHAOS and Los Ingobernables continue to clash. Despite the relatively similar tag matches (LIJ only has 4 members, CHAOS has much more but 5 wrestlers have been mostly involved), these matches have been great. Extremely heated as Okada plans to challenge Naito for the title, a rematch from Invasion Attack in April. Newest CHAOS member Hirooki Goto who had been feuding with LIJ back when it was only two members looks to have his blow off match with EVIL. Their first match last year ended in DQ due to Naitos interference, him and Shibata lost to EVIL and Naito in the World Tag league Block B deciding match, and he recently lost to EVIL at Dontaku which was EVIL's first big singles win. CHAOS fall guy YOSHI-HASHI looks to take on newest LIJ member SANADA (TNA viewers might remember Seiya Sanada), in an interesting story built on the fact they both tried out for NJPW together with YOSHI-HASHI getting in on his third attempt and SANADA trying out for a different promotion.
Overall, Dominion is looking good.