October 22nd-Creepshow from 1982 (Director: George Romero, Writer: Stephen King, Runtime: 120 min)
One of the famed 80s horror films was inspired by anthology horror comics from DC comics and the more violent horror comics of EC. he film has five stories with bookends. The film is… Okay. The comic sensibilities are a nice touch, the film is excellently styled, and some cool effects in various scenes. Its just that the stories themselves do little for me. Which should not be surprising as those old DC Horror stories were more style over substance, a showcase for the artist more than the writer. At least the old House of Mystery stuff I use to read. The bookends are okay, effective introduction and exit for the film. Fathers Day has a cool zombie, amusing ending, and little else. Felt like a waste of Ed Harris. The Lonesome Death of Jordy Verrill is interesting, definitely nails that old school horror short comic feel. Something to Tide You Over is fascinating in the fact that Leslie Nielsen is the villain. The best performance in the piece even if the story has an ending you can see coming once it kicked into gear. The Crate runs too long, especially to get to the actual crate. The monster and gore are nice but its just too long to get to the point. They're Creeping Up on You has a nice setting with some great lines but by this time I was hoping things would wrap up. Overall, thumbs in the middle
[Trailer]
October 23rd-Deadly Blessing from 1981 (Director: Wes Craven, Writers: Glenn M. Benest, Matthew Barr and Wes Craven, Stars: Ernest Borgnine, Maren Jensen, Susan Buckner, and Sharon Stone, Runtime: 100 min)
I don't even know. A womans husband dies after getting hit by a tractor. He was banished from his family who are an austere religious group. The widow, Martha, is joined by her sisters. Stuff happens. What could have been a simple thriller/mystery moves too slow. The whodunit is, overly stupid. Then there's the last 3 minutes which feels like it came out of an entirely different movie. A movie I actually rather have watched! All the performances were fine. Visually, one of the least interesting Wes Craven movies I've ever seen. Not actively bad just not worth discussion.
[Trailer]
October 24th from 2015-Scouts Guide to the Zombie Apocalypse (Director: Christopher B. Landon, Writers: Carrie Evans, Emi Mochizuki, Lona Williams and Christopher B. Landon, Stars: Tye Sheridan, Logan Miller, Joey Morgan, Sarah Dumont and David Koechner, Runtime: 92 min)
How can I a film with a lot of good things not work? The premise is strong, the cast is solid, the pacing works. But the film fails. Mostly because its not funny. That's the problem? I don't… Actually I do know. The attempts at humor actually hurt the film. If it was more straight forward, it would be fine but it wants to be funny. A shame really, the cast tried so hard. Not a bad movie, nice amount of gore, I actually thought they did a good job building the friendship of the scouts, the waitress was cool. This needs to be remade as a more serious, scary film. I write this an hour, the film despite its problems is something I'd toss in the background so definitely enjoyed it.
[Trailer]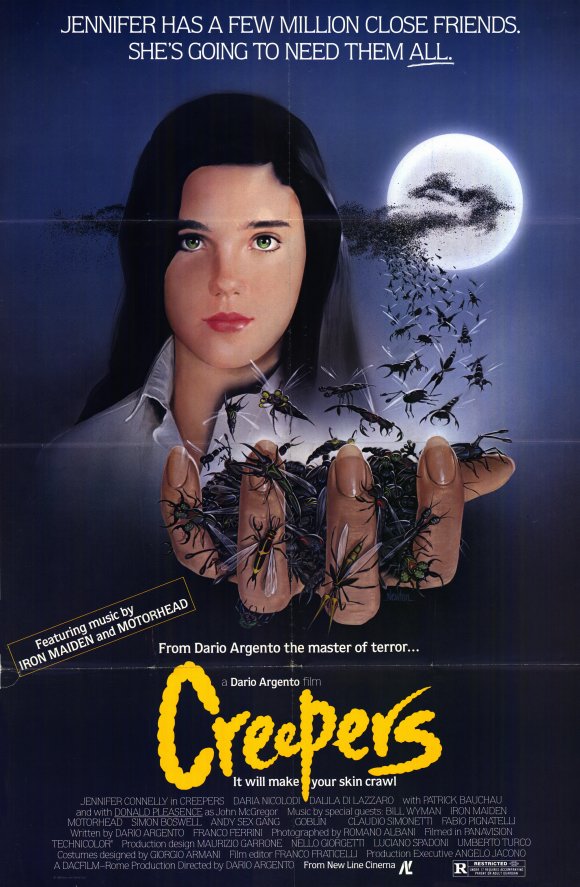 Creepers aka Phenomena from 1985 (Director: Dario Argento, Writers: Dario Argento and Franco Ferrini, Stars: Jennifer Connelly, Daria Nicolodi, and Donald Pleasence, Runtime: 110 min original and 82 min edited)
What? This film was on a list i saw just recently of great 80s horror films. I don't get it. Jennifer Connelly's character transfers to some school out of country. A murder is on the loose. She likes insects, I guess. Sleepwalks and is a little weird. There's an entomologist who has a monkey. We meet the killers, a couple creepy things at the end. Whatever. Maybe if I had seen the uncut version I'd have more appreciation. trivia, apparently a big source of inspiration for the 1995 horror game Clock Tower.
[Trailer]
October 26th-Last Shift from 2014 (Director: Anthony DiBlasi, Writer: Anthony DiBlasi and Scott Poiley, Stars: Juliana Harkavy, Runtime: 87 min)
Rookie cop gets stuck doing the last shift at a police station being closed. Strange things start happening. All tied to a family of killers. Its depressing and made me anxious through out. I don't actually have much more to say. The make up work was good, the direction was fine. Sometimes it seems bland and other times very stylized. The performance by Juliana Harkavy was strong. I guess I felt so bad for her. I really did. It was good, better than most the movies I've seen this week-thus far.
[Trailer]
October 27th-Slumber Party Massacre from 1982 (Director: Amy Holden Jones, Writer: Rita Mae Brown, Stars: Michele Michaels and Robin Stille, Runtime: 77 min)
Girls throw a slumber party while some serial killer is running loose. You can figure out how this goes. To be honest, I was sadden by the announcement of Vine being discontinued and was distracted by so many Vines. Not that I feel like I missed anything. The death scenes were mostly pretty basic. The killer didn't strike me as interesting until he finally spoke. Could not care about the rather dull performances. That said, the last several minutes are actually really strong. There is a focus on developing the women which is nice and they are athletes which is interesting. Ends on a high note. What I find most fascinating is this film was written and directed by women. The director probably best known for her work on Mystic Pizza (which she directed), Beethoven and Indecent Proposal. The writer whose 1973 novel Rubyfruit Jungle is a famous lesbian novel, explicit in nature for its time. Also got depressed by one actress wikipedia page. This film was inoffensive.
[Trailer]
October 27th-Texas Chainsaw Massacre 2 from 1986 (Director: Tobe Hooper, Writer: L. M. Kit Carson, Stars: Dennis Hopper and Caroline Williams, Runtime: 101 min)
Many years ago I caught the original Texas Chainsaw Massacre on basic TV on a midnight movie thing. Didn't care for it. Watched it earlier this year uncut for TV, found it lackluster. Saw the much hated Next Generation many years ago which, at the time, I thought was cool. Don't remember it all that much other than it being weird to see Renee Zellweger and Matthew McConaughey in this kind of film. I think I like this one the best. Couple idiot kids get themselves killed while calling into a radio show. The DJ teams with a former Texas Ranger who has been looking for a crazy killer family. Wackiness ensues. I had much fun with this film. Just so over the top and the weird dilapidated amusement park turned killer hideout setting is so bonkers looking.
[Trailer]
October 29th-The Town That Dreaded Sundown from 1976 (Director: Charles B. Pierce, Writer: Earl E. Smith, Stars: Ben Johnson, Andrew Prine and Dawn Wells, Runtime: 90 min)
Okay, here's a review. Based on the real Texarkana Moonlight Murders, the Town that Dreaded Sundown is an incredibly disappointing feature. It opens strong with a masked man attacking a couple and proceeds to be a serious police mystery. The voice narration that opens the film continues narrating in sequences, taking me out of the picture but not as much as the boring police procedural and odd comic relief of an officer known as Sparkplug. While its fascinating to see police track down a serial killer in a slasher film, there is no mystery without clues and suspects. The growing fear the city feels does not really translates to screen. The film does feature some interesting attacks and the killer is simply a masked man, making him pretty frighteningly real. A few of the actors give strong performances and visually this is an interesting film, but the tone is a problem. One minute a thriller, next a procedural, a voice narration here, and comic relief there. It does not work for me. I was curious about this film, my fascination grew with the knowledge its based on a real series of murders. I ended up disappointed.
[Trailer]
October 30th-Don't Go In The House from 1980 (Director: Joseph Ellison, Writer: Ellen Hammill, Joe Masefield and Joseph Ellison, Stars: Dan Grimaldi, Runtime: 82 min)
Another great poster for a bad film. I mean, the main star did a lot of the lifting for the film about a guy with issues (abuse from mom) who targets women to burn. Oh, and he hears voices. Honestly I don't care. Dan Grimaldi tries but he's not magnetic enough to captivate. Not gonna waste my time explaing, skip.
[Trailer]
October 31st-Halloween from 1978 (Director: John Carpenter, Writers: John Carpenter and Debra Hill, Stars: Donald Pleasence and Jamie Lee Curtis, Runtime: 91 min)
The famous slasher. John Carpenters classic. No need to go over the story. saw this over a decade ago, on basic cable with commercials and censored. My appreciation for the film has grown considerably, unlike Texas Chainsaw Massacre. This is a simple film with strong performances (well, most of them) and great shots. The scenes with Mike Myers fading in in to scenes are nice. The music is very iconic, but Carpenter always knew the right beat for his classics. I ain't going to sell this to you.
[Trailer]
This is my ranking list. Yeah!
1. Hush
2. Young Frankenstein
3. Little Shop of Horrors (1986)
4. Little Shop of Horrors (1960)
5. The Conjuring
6. Tie: Carnival of Souls and Neon Demon
7. Halloween
8. Demon City Shinjuku
9. Wicked City
10. Texas Chainsaw Massacre II
11. Lily C.A.T.
12. Night of the Comet
13. Creature from the Black Lagoon
14. Last Shift
15. Scouts Guide to the Zombie Apocalypse
16. Creepshow
17. Snow White: A Tale of Terror
18. Tie: Blackula and The House on Skull Mountain
19. Galaxy of Terror
20. The Town That Dreaded Sundown
21. Deadly Blessing
22. The Devil Rides Out
23. Slumber Party Massacre
24. Creepers
25. The Company of Wolves
26. I Drink Your Blood
27. Don't Go Into The House
28. Vampire Senshou
29. Messiah of Evil