10 Favorite Moments
10. Shinsuke Nakamura and Bobby Roode's Music and Entrances for NXT.
9. Finn Balor Is First Ever Universal Champion for Raw Brand.
8. Mike Elgin Breaks Handcuffs Trapping Him To Steel Pole, Goes On To Win NJPW's First Ladder Match and the IC Title.
7. Team Sendai Girls beat Team JWP To Become First Queen of Trios at Chikara King of Trios 2016.
6. Sexy Star Beats Mil Muertes to Win Aztec Warfare III and Capture the Lucha Underground Title.
5. Mil Muertes Smashes Through Coffin With Metal Glove.
4. FUCK YOU! Sexy Star Shouts At Ref Asks Her If She Quits in The No Mas Match.
3. Beef On Sight! Sami Zayn Opens Fatal 4 Way with Helluva Kick On Kevin Owens.
2. Kenny Omega Wins G1 Climax, First Non-Japanese To Do So.

1. AJ Styles WWE Career Thus Far. Royal Rumble Debut, Feuds With Name Stars, Beats Cena, Wins World Heavyweight Title. All In Less Than A Year.
Favorite Teams of 2016
6. The Briscoes-The controversial tag team gave New Japans Heavyweight Tag Division a needed shot in the arm.
5. Team Sendai Girls-Swapping out Sendai Sachiko with Cassandra Miyagi, Team Sendai Returned to Chikara and won the whole thing. I'm a mark for Meiko Satomura so yeah…
4. New Day-Despite some stupid booking and writing, still one of the best things in 2016. Especially the first half of the year.

3. Los Ingobernables de Japon-On point in the majority of their tag matches. Especially when they were facing off against Chaos.

2. Young Bucks-Mother fucking Young Bucks.

1. Revival-Formerly the Mechanics, a tag team that knows how to build great tension and excitement in their matches. Making you ache for their opponents to beat them.
My 25 Favorite Wrestlers of 2016
Not breaking them up by gender this year. Based on matches, consistent work rate, promos, crowd heat, genuine AHHHH moments and how I connect with them this year.
Honorable mentions: Sexy Star, Johnny Mundo, Becky Lynch, Cesaro, Rich Swann, Yuji Nagata, Zack Sabre Jr., and Tokyo Sports Rookie of the Year Chihiro Hashimoto.
25. Killshot
24. Asuka
23. Will Ospreay
22. Volador Jr.
21. SANADA
20. Kevin Owens
19. The Miz
18. Mascara Dorado/Gran Metalik
17. Jeff Cobb/Matanza Cueto
16. Sasha Banks
15. Naomichi Marufuji
14. EVIL
13. Ricochet/Prince Puma
12. KUSHIDA
11. Katsuyori Shibata

10. Sami Zayn-Zayn was a part of some of my favorite matches of 2016. When booked right, when things fall in place, few are better.

9. Hiroshi Tanahashi-Last years #1, slipped down but still produced on a higher level than most wrestler can ever achieve. Even with a bad arm. A very bad arm.

8. Charolette Flair-I have had problems with her booking, some writing, and some sloppy in ring work. But I can not deny, she is the current Queen of Wrestling. Best heel working today. I absolutely hate how strong she is booked for the sake of HISTORY! but admire her growth and hard work. She is developing into one WWE's big match workers.

7. Mil Muertes-Mil Muertes reign atop Lucha Underground was great. Even without the title he is great. His matches are mean and his presence imposing.

6. Michael Elgin-Last year he put NJPW on notice, this year he elevated his game. He's a big time player.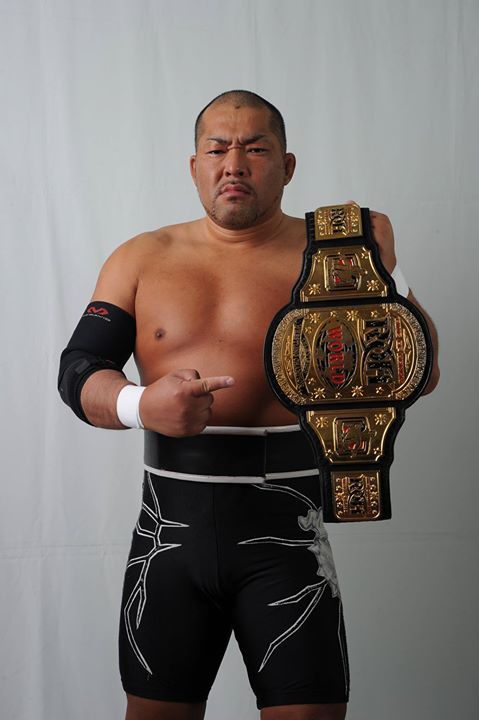 5. Tomohiro Ishii-The Stone Pitbull keeps it real. Every match.

4. Tetsuya Naito-Naito is the best character in wrestling today. He strung together great series of matches and was part of some excellent feuds. LIJ is on fire in Japan and most of that has to do with the man himself who was recently named Japanese wrestlings MVP of 2016 by Tokyo Sports and voted NJPW's MVP by the fans.

3. Kazuchika Okada-Okada had a few forgettable matches here and there but on a whole, main event player. His clashes with Naito, Tanahashi, Marufuji and others were source of greatness through out. No days off when it comes to his work.

2. Kenny Omega-Started 2016 Junior heavyweight, pinned Nakamura and ousted Styles from Bullet Club. Moved onto be a heavyweight. From there won the IC title and Never 6 Man with the Bucks. Killed it in the G1. So much charisma, so much energy, he calls himself the Best Bout Machine for a reason.

1. AJ Styles-Talk about an impressive WWE run thus far. Amazing matches with Cena, pulled Ambrose into his best singles matches in WWE, and threw down with a fun feud with Roman Reigns. Plus that match with Shinsuke Nakamura at NJPW Wrestle Kingdom was great.
My 25 Favorite Matches of 2016
Incredible year. So many excellent matches.
25. Young Bucks vs ACH & Taiji Ishimori in Round 1 of Super Jr. Tag Tournament @ NJPW Road to Power Struggle (October 21st)
24. Ricochet vs. Will Ospreay @ NJPW Best of the Super Juniors Day 6 (July 27th)
23. Chihiro Hashimoto defends Sendai Girls World Title against Cassandra Miyagi @ Sendai Girls 10th Anniversary Show in Tokyo (November 8th)
22. The Miz Defends Intercontinental Title Against Dolph Ziggler's Career @ WWE No Mercy (October 9th)
21. Meiko Satomura defends Sendai Girls World Title against Chihiro Hashimoto @ Sendai Girls 10th Anniversary in Sendai (October 16th)
20. The Miz defends Intercontinental Title in Fatal 4-Way vs. Kevin Owens vs. Sami Zayn vs. Cesaro @ WWE Extreme Rules (May 22nd)
19. American Alpha defend the NXT Tag Titles against The Revival @ NXT Takeover: The End (June 8th)
18. Mil Muertes defends Lucha Underground Title in Three Way Match vs. Prince Puma vs. Pentagon Jr @ Lucha Underground Season 2 Episode 7 "Death Comes In Threes" (March 9th)
17. The Revival defend NXT Tag Titles against Enzo and Big Cass @ WWE Roadblock (March 12th)
16. KUSHIDA vs. Kyle O'Reilly @ NJPW Best of the Super Juniors Day 1 (May 21st)
15. Guerillas of Destiny defend IWGP Heavyweight Tag Titles against Tomohiro Ishii & YOSHI-HASHI @ NJPW Power Struggle (November 21st)
14. Kazuchika Okada vs. Naomichi Marufuji @ NJPW G1 Climax Day 1 (July 18th)-Tokyo Sports Match of the Year
13. Briscoes defend IWGP Heavyweight Tag Titles against the Young Bucks @ NJPW Destruction in Hiroshima (September 22nd)
12. Sami Zayn vs. Shinsuke Nakamura @ NXT Takeover: Dallas (April 1st)
11. The Revival defend NXT Tag Titles against #DIY in 2 out of 3 Falls Match @ NXT Takeover: Toronto (November 19th)

10. Michael Elgin vs. Kenny Omega @ NJPW G1 Climax Day 8 (July 30th)-These Canadians feuded in New Japan through half of 2016. In tag matches, house shows, the first NJPW ladder match, and than finally in the G1 Climax. This was the best of battles.

9. Kevin Owens vs. Sami Zayn @ WWE Battleground (July 24th)-From the indys to the mainstream, this will go down as one of the greatest feuds of any era. The ending to this match, is an absolute beauty. One of the most perfect endings. A brilliant chapter in their long history.

8. Cedric Alexander vs. Kota Ibushi in Round 2 of the Crusierweight Classic @ WWE Crusierweight Classic (August 10th)-The standout of an ambitious tournament. A match that set the standard of the tournament and overshadowed the rest to come.

7. Ryusuke Taguchi vs. Will Ospreay in the Finals of Best of the Super Juniors @ NJPW Best of the Super Juniors Finals (June 7th)-People will remember the match between Ricochet and Ospreays better but for me this match was by far the superior match. Ryusuke Taguchi, normally a comedy wrestler dismissed by Western fans, brought the goods through out this tournament and was on point for this match. Ospreay is young, faster, and one of the most buzzed talents around and for good reason. This was an amazing finale to a fun tournament.

6. Sexy Star vs. Mariposa in No Mas Match @ Lucha Underground Season 2 Episode 15 "No Mas" (May 4th)-Sexy Star is a strange worker. Bsed purely on skill and in ring work she's not that good. There are so many better womens wrestlers out there. Yet somehow she is able to come through in big situations. Her opponent, the talented Cheerleader Melissa, had been a question mark as Mariposa. In fact, she still is. Regardless, this match… brutal. Mean. Violent. Many amazing moments.

5. Kazuchika Okada vs. Tomohiro Ishii @ NJPW G1 Climax Day 13 (August 6th)-My second favorite match of the G1 Climax. Ishii is a beast, brings out the best in his opponents and Okada just happens to be one of the best. A stand out match. Dave Meltzer rated *****

4. AJ Styles vs John Cena @ WWE Summerslam (August 21st)-Their first match was fine, some rocky points but enjoyable. This match… God damn! This cemented AJ's place in the company.

3. Tetsuya Naito vs. Kenny Omega @ NJPW G1 Climax Day 18 (August 13th)-Admittedly, I was worried. This was the the main event of the final B block night and the previous shows A block main event between Tanahashi and Okada was great. Plus the first few minutes were rocky. Naito is a stalling heel and Kenny can be over the top and cartoonish. However this match not only overshadowed A blocks marquee match, it overshadowed the whole tournaments output and most the matches I've seen this year. This one has to be seen to be believed. Dave Meltzer rated ***** & Voted Bout of Year by NJPW Fans

2. Charolette Flair vs. Sasha Banks vs Becky Lynch in Three Way To Crown First WWE Womens Champion @ WWE Wrestlemania 32 (April 2nd)-This was the first straight up WWE match of 2016 that mattered to me. Looking back, I can still remember the feeling of being on the edge of my seat through out. The start of a new era for Women in WWE.

1. Kazuchika Okada defends the IWGP Heavyweight Title against Hiroshi Tanahashi @ NJPW Wrestle Kingdom 10 (January 4th)-What was to be the finish of New Japans most prominent feud had the Ace of the Universe challenge the Rainmaker for the title. In 2015, with roles reveresed, Tanahashi beat Okada saying he still had a way to go. This year Okada showed how he had grown. This was big and dramatic. Not quite the end of their saga, but the most important chapter. Dave Meltzer rated *****