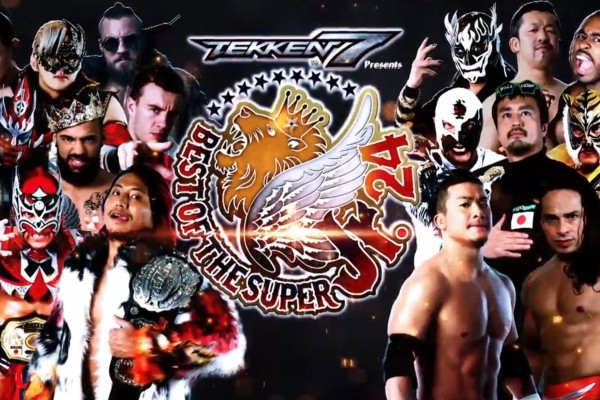 So New Japans second tournament of the year is upon us. Best of the Super Juniors is not only one of their most beloved tournaments but also one of their most popular internationally. A tournament that ahs had famous comepetitors and winners like indy stars Will Ospreay and Ricochet to WWE stars like Finn Balor and Gran Metalik to late greats like Owen Hart and Eddie Guerrero. So, because I need content on this blog, here is a primer on the tournament which started May 17th and runs into June 3rd.
The tournament is round robin between two blocks. Winners get 2 points, draw gives each competitor 1 point, and 0 points to the loser. Winners of their respective blocks face off for the top prize in the finals. Tie breaker decisions for blocks is determined by the winner of the two wrestlers match. For example is KUSHIDA ties with Volador Jr in points for block B, the winner of their match breaks the tie.

BLOCK A
The most stacked block of the tournament, this one will bring the goods with several stars. Including three of the worlds leading high fliers and the current Jr. Champion who has been a major buzz. The winner gets a neat trophy and a shot at the Jr. Heavyweight champion at Dominion, the big show before the G1 Climax tournament.
Dragon Lee-Not the original Dragon Lee but the one people are going to remember. This 21 year old madman is a shining star in CMLL and all of lucha libre. Fast, crazy, and a serious spectacle. The kind of guy who would be a highlight of Lucha Underground if he was on it. Lee's status has risen in the States with his limited appearances in Ring of Honor and is also growing in Japan because of New Japan. Lee is going to deliver and be showcased strongly. Look forward to him reuniting his feud with Hiromu Takahashi as well as taking on last years winner Will Ospreay and the first time meeting with Ricochet. Lee could go on to win his block, maybe the whole thing.
Hiromu Takahashi-The Jr. Heavyweight Champion, member of the popular Los Ingobernables de Japon, and one of the most popular wrestlers in Japan today. Hiromu has returned to New Japan after a lengthy excursion which saw two years in CMLL in Mexico and several months in the states including Ring of Honor and PWG. Once back he was thrusted into the title picture and has not only risen to the occasion. Takahashi has yet to be pinned in a one on one encounter since his return so I expect him to lose the tournament overall but I expect him to still look like a star. Look forward to his rematch against Ricochet and his and Dragon Lees next attempt to kill each other. I also look forward to his first meeting (?) with Will Ospreay. The biggest match might be facing off against the legendary Jushin Thunder Liger who I will now talk about…
Jushin Thunder Liger-Perhaps the greatest Junior Heavyweight to ever wrestle and an all time legend. Liger has wrestled all over the world, faced off against so many legends. The three time winner of BOSJ, the man who not only put the tournament on his back but the junior division as well. Liger, at 52 years of age, has teased retirement and claims this is his last run in the tournament. He is many betters odds on to at least make the finals. Make no mistake, Liger can still go. He's in the A block for a reason this year. I'm curious about his matches with the debuting Marty Scurll, Liger is an understated mat technician. Also taking on the champion himself, Takahahsi. Keep an eye on this man.
Marty Scurll-Making his New Japan debut is Ring of Honor TV champion, newest addition to the the popular Bullet Club, "the Villain" Marty Scurll. Marty will bring a style and personality to the tournament. Its a question of will his antics cross the cultural barrier when he performs in front of a Japanese audience, most of which will not be familiar with him. Marty will be one of the best mat wrestlers on the block for sure, and it will be interesting to see him match up with other mat technicians in Liger and Taka, two guys who use to be high fliers who've switched priorities with age. Also interesting to see him face off with his sometimes rival Will Ospreay. Admittedly, never seen the two go one on one. Very curious. Scurll will probably end up with at least 4 wins.
Ricochet-Former winner of the BOSJ three years prior, Ricochet's back to be a two time winner. If you don't know Ricochet then let me give you a crash course, one of the best working today. Prince Puma for Lucha Underground, multiple time champion in dozens of promotions, made a buzz last year with his match against Will Ospreay for the previous tournament-expect great things. Most people are waiting for Ricochet/Ospreay Round 2 (in NJPW, they've faced elsewhere) but me? I'm more curious about him and Dragon Lee or him versus Scurll. I don't think Ricochet will win but who knows.
Tachi-Taichi is the worse. People in his hometown don't know he's form their hometown. A member of the heel faction Suzuki-Gun, expect shenanigans. including taking the bell hammer and using it as a weapon because he always does that. He has a fake popstar gimmick, comes out with a valet, rips his tear away tights, and has boring matches. Yet he will win at least 3 matches. he's another block spoiler. If he goes to the finals, I'm going to break something. He won't win, I can guarantee that.
Taka Michinoku-That Taka. Former WWE wrestler and mind behind Japanese indy promotion K-Dojo and New Japan freelancer. The veteran is one of the craftiest athletes even in his early 40s and brings a lot of personality to the ring. A member of the divisive Suzuki-Gun faction expect heel antics and possibly his buddies interfering on his behalf. Taka won't win too many, he's just there to be an asshole and a possible spoiler for some odds on favorites.
Will Ospreay-Last years winner, made his BOSJ debut and won it by defeating Ryusuke Taguchi in an excellent match. Ospreay, who is representing the stable CHAOS, is looking for a two-peat. If he achieves it he'd only be the second wrestler to have won back to back tournaments. It also put him on the short list of repeat winners (Liger, Tiger Mask IV, Finn Balor, Koji Kanemoto, the wrestler who can not be named) Ospreay is one of the best high fliers in the world, he's got several major matches in front of him. I think its slim that he will win it, but if he beats Takahashi and Takahashi retains at Dominion, Ospreay would be the odds on to face him at King of Pro-Wrestling which is a major show down the line. Expect great things from this man in the tournament, but I wouldn't put money on him winning the whole tournament.

BLOCK B
Less stacked and, from a narrative standpoint, possibly the more predictable block. Still, a number of talents and intriguing match ups.
ACH-ACH has worked hard to get to New Japan proper. He was able to head to Pro-Wrestling Noah when NJPW was associated with them, and won a tag tournament with Taiji Ishimori. The pair competed in New Japans Super Jr.s Tag Tournament. He returned briefly under a mask for an anime based exhibition match against Tiger Mask W. Now he's in New Japan proper. One of the most charismatic athletes around, ACH is going to work his ass off. He's been endorsed by KUSHIDA and their first encounter was buzzed about. I'm personally looking forward to him facing lucha libre star Volador Jr. as well as the silly hijinks of a match with Ryusuke Taguchi.
BUSHI-BUSHI is an oddity. He's part of New Japans most popular stable (LIJ) and has his adoring fans yet he doesn't quite rise to the occasion. Last year an odds on favorite he played spoiler and had several uninspired matches. I don't know what to think. Great look, clean movements, and potential to be a superstar but seems stuck as mid level heel. I say this because I actually care, and generally like BUSHI. Looking at match ups, I dread seeing another match up with KUSHIDA again as he two have little chemistry. Expect *** matches top. I don't think he'll make it to the finals, unless they plan on him trying to spoil everyone's chance at his stablemates title. Still, don't expect a winner.
El Desperado-Suzuki-Gun member #4. Almost all Suzuki-Gun juniors are in except Zack Sabre Jr who wrestles against heavyweights thus far for the company. El Desperado has a great look, he's pretty good in the ring, but he's a pin eater. None of the Suzuki-Gun guys will rise above 4 wins. None! Still, a hell off with BUSHI, and matches against Volador Jr. and ACH will look good.
KUSHIDA-The former ACE of the junior division and one of the best wrestlers in the world. KUSHIDA is in a rut currently. he lost the title at Wrestle Kingdom against Hiromu Takahahsi, who then put him away in about 2 minutes in KUSHIDA's rematch. B block might be the redemption arc. The problem is, too predictable. Still, since Takahashi/KUSHIDA III will not be needed to sell tickets for Dominion (the top 2 matches guarantee a sell out) I can see saving that for later. Maybe KUSHIDA/Ospreay III in the finals. Only way I see KUSHIDA advancing and Ospreay winning for a second time. Match ups to look forward too? Pretty much everything will be good to great with the exception of the BUSHI match.
Ryusuke Taguchi-Taguchi is divisive among non-native audiences. A veteran who has settled into a comedy based gimmick using his posterior as a weapon. here's the thing, Taguchi is very good. I didn't think much of him until last years tournament when he pulled out half a dozen great matches including the finals with Will Ospreay. Taguchi will dial the comedy down a bit (it'll still be there) and dial up the seriousness. I look forward to his match with ACH, another round with KUSHIDA, and a first maybe Volador Jr. Maybe even pull out the best match with BUSHI as they've gone at it several times in the Taguchi Japan vs LIJ feud. Taguchi Japan is just Taguchi leading a team of non affiliated wrestlers against LIJ. I kind of want one of the track jackets…
Tiger Mask IV-For sake of history here is what you need to know. Tiger Mask was originally a manga/anime about wrestling that was adopted into the real world with the first wrestler. Tiger Mask and Dynamite Kid had a legendary feud. Tiger Mask II became more popular when he dropped the mask and went by his name, Mistuhara Misawa. The late Misawa is one of the all time greats. Tiger Mask III no one remembers and IV is… an okay wrestler. The only BOSJ winner to two-peat back to back. I expect ***1/2 being the ceiling. Nothing more, maybe a little less? he is the second oldest man in the match and nowhere near as good as Liger is. There is also a Tiger Mask W played by Japanese star and WWE Cruiserweight Classic stand out Kota Ibushi. Based on the current cartoon. Maybe W will be in G1 Climax?
Voaldor Jr.-CMLL superstar Volador Jr is one of the most popular luchadors with lucha libre fans. Does some crazy stuff, puts together some excellent matches. If I ever turn into CMLL I always look forward to him. Last year he was Block B runner up behind Will Ospreay. I don't see him winning, but I can see him going to the finals. I wonder if New Japan would pull a Dragon Lee vs Voaldor Jr. finals. Never has two Mexican wrestlers headlined a NJPW show. I've made it clear I really look forward to his match with ACH and El Desperado.
Yoshinobu Kanemaru-At 40, Kanemaru is making his BOSJ debut. Started in All japan, went to Noah, left to the "new" All Japan, brought into Noah by New Japan and joined the invading Suzuki-Gun. Brought into New Japan. Guys been around. He's okay. His matches will be fine. Another Suzuki-Gun guy who won't win.
I have no idea who the winner can be but I'll put money on Liger. Definitely someone in Block A.
Shows available at NJPW World. 999 yen which is around $9 a month and the sites in Japanese but Google chrome translates. Schedule and match line up at English site NJPW 1972.